Another happy customer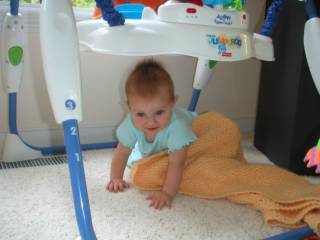 Another happy customer...

I forgot to post this picture earlier, and I just thought of it now, so here it is. This is my cousin Amber's little girl, Gabriella, sporting her soft yellow baby blanket, courtesy of yours truly. Pretty cool, huh?
So anyway...here I am in Columbus. We got up at 3 this morning to get to the airport on time. Needless to say, I'm running on hotel coffee right now. Paul's at work now, and he most likely will be until rather late tonight, so I plan on curling up with a TV movie and doing a little knitting tonight. I brought three projects, so that should give me enough options.
Or maybe I'll just hang out in the hotel hot tub...
I left my poncho at home this week. It's much too bulky to drag along. But it's really coming along -- I've almost finished the back. And I'm so glad I got the yarn that I did. It's so soft, and I love the colors... I can't wait to finish it!